ReformAb
Phage display antibody discovery processes typically generate antibody fragment leads
Require formatting to full length mAbs
Traditionally a laborious and time consuming process
ReformAb uses modular vectors 
Rapid and sequence-independent insertion of antibody variable regions into human constant region backbones
Ligation-free, high-efficiency, variable region insertion without the addition of extraneous amino acids
Ideal for high-throughput reformatting of ReformAb discovery leads
Constructs can be used directly for transient or amplifiable, stable expression in mammalian cells.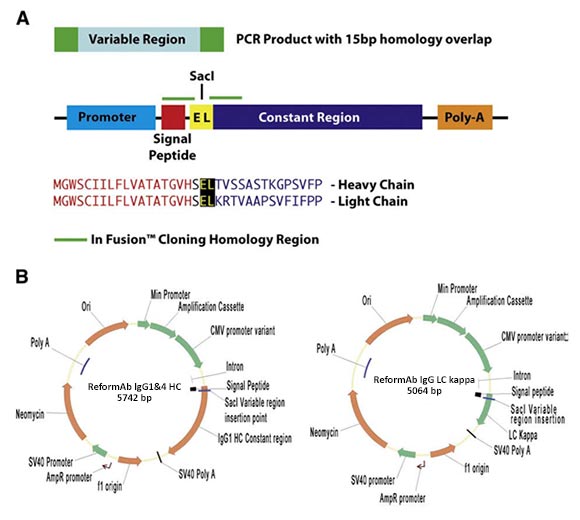 The ReformAb vector system contains all the required elements for high-level expression in mammalian cells as well as the backbone sequence of IgG including a secretory signal peptide.
(A) The E–L codons form a SacI site for vector linearization prior to In Fusion™ mediated cloning of the variable region. The variable region PCR product contains 15 bp at the 3′ and 5′ ends with exact homology to the destination vector insertion site flanking the SacI site. (B) Vector maps of the complete heavy chain and light chain constructs.